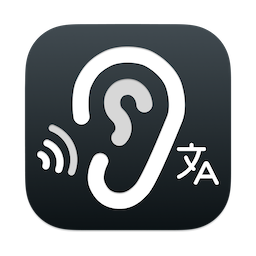 BeMyEars
See what is saying...
Live Caption
System wide live caption, sub-seconds delay. You'll see what is saying around you.
Recording And Export
If you want to record the video conferencing, online classes or un-downloadable stream media, BeMyEars can record and export the transcribing voice in m4a audio file.
Privacy First
With the help of Apple's gorgeous CoreML and Speech machine learning framework, all this magic happens on your own device. NONE of your audio/videos will be uploaded.
Any Voice
BeMyEars hear macOS speaker's voice and turn it into subtitles in real time. The voice can from browser, Zoom, Skype, Google Meet etc. Any application!
Multi language support
Chinese(Mainland),Chinese(HongKong), Chinese(Taiwan), English(American),English(British), French,German,Italian, Japanese,Korean,Russian, Indonesian. Much more can be supported, feel free to feedback.
Ears Care
Kindly remind you if voice is too loud. Protect your ears health and avoid distrub others. BeMyEars is motivated by ❤ of empathy. Technology should enable people to enjoy their life.
# Demo Video
# Environment Recommendation
BeMyEars keep developing to make use of latest Apple technology.
For better user experience, we recommend BeMyEars >= 2.0 and macOS 13.0(Ventura)
# Install (One Steps to turn on live caption Recommend Environment )


or Search BeMyEars on AppStore.
Supported OS Version(>= macOS Big Sur(11.0)), optimized for M1 Neural Engine。
# Install (Three Steps to turn on live caption Old Environment)
# Step 1: Install BlackHole
Click To Download BlackHole, Double Click BlackHole2ch.v0.4.0.pkg to Install BlackHole.
MD5:6e97449b70e22df4bc1bcbae59b08cd1
BlackHole is a modern MacOS virtual audio driver that allows applications to pass audio to other applications with zero additional latency. BlackHole Project (opens new window)
# Step 2: Install BeMyEars


or Search BeMyEars on AppStore.
Supported OS Version(>= macOS Big Sur(11.0)), optimized for M1 Neural Engine。
# Step 3: Choose Voice input device
BeMyEars -》 Hear Voice From -》 BlackHole 2ch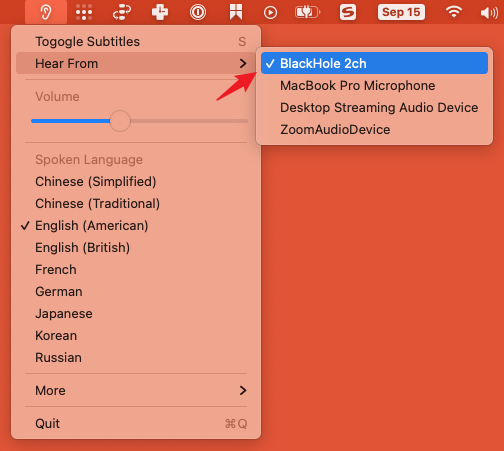 Open Demo Video (opens new window),you'll see magic happen。
# User Guide
# FAQ
# What motivate BeMyEars?
I work with a colleague who is hearing impaired.
He is an amazing guy, we collaborate well for 7 years.
One day when we were communicating on Slack, I sent him my favorite video link, and he say it has not been subtitled.
Suddenly I realized that I was ashamed of my unintentional offensive behavior.
I wondered if I could do something to help him.
At the same time, I often experience the benefits of captioning when I watch YouTube videos,
but I often find that many valuable videos are not captioned, especially for not-so-popular videos and I feel sorry for them.
Therefore, I wanted to have software that could generate subtitles in real-time from the sound in the system.
# Why do I need to install BlackHole?
BeMyEars respect BlackHole License. Let's applaud for BlackHole, without it magic could never have happened.
BlackHole is licensed under GPL-3.0. You can use BlackHole as long as your app is also licensed as GPL-3.0. For all other applications contact me directly at devinroth@existential.audio.
# Why I see "the language: XXX model is missing" ?
BeMyEars use Apple's gorgeous CoreML and Speech machine learning framework,
it need to download the language model if it's not installed in your macOS for the first time.
The download job is underneath macOS in the background.
How long it takes to accomplish it depend on your network condition.
In my worst test case, it takes 30 mins.
Reboot system may help, what's more important is keep patient.
# Special Offer
The author deeply feels the difficulties faced by people with disabilities If BeMyEars is helpful to you, but the fee policy increases your cost of living too much.
Please send an email to bekind@engineerdraft.com with a brief description of your situation, I may give you a special offer.
# Feedback and Support
Feedback: voice@engineerdraft.com
Follow BeMyEars Twitter (opens new window)
# Version History
In some situations, users may not be able to upgrade their macOS system, which is why historical versions are necessary.
# BeMyEars v4.7
This version is the last one to support macOS 11 and macOS 12.
It has ceased to receive feature updates and is primarily focused on bug fixes.
We recommend users to upgrade to the latest macOS system to enjoy a better experience and access more features.
Download here (opens new window)